Glens Falls Post-Star Highlights Harvest Season in Upper Hudson Valley
First time for everything: Across region, wineries begin grape harvest

Blue skies greet pickers at Victory View Vineyards during the vineyard's grape harvest in Easton Saturday, Sept. 14, 2013. (Ashleigh Abreu - Special to The Post-Star)
Oct 18, 2013

•

SCOTT DONNELLY -- sdonnelly@poststar.com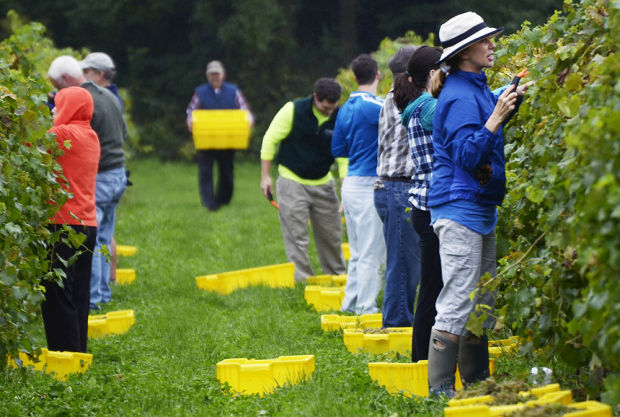 Victory View Vineyard harvest
The region's growing winery industry has brought a relatively new crop to the fields of Warren, Washington and Saratoga counties.
An area better known for apples, corn and pumpkins is fast becoming a grape producer, with new wineries adding more vines each year. It's a trend enabled by science, and Gerry Barnhart, co-owner of Victory View Vineyard, is among the first in the region to go "all-in" on a bet the region can grow all the grapes needed to support a winery.
"I would expect we'll get somewhere in the neighborhood of 12 tons of grapes this year," Barnhart said late last week, as he was getting set for a weekend of harvesting at his winery on state Route 40 in Easton.
While machines can be bought to harvest grapes, Victory View Vineyard's grapes are hand-harvested, Barnhart said. Friends, family and neighbors help with the effort.
"At the end of the harvest day, we put on a big meal and try to make it not just a work session, but a good social event," Barnhart said.
The work requires pickers to move up and down both sides of the rows of vines, carefully removing grapes and putting them in picking lugs, which hold about 30 pounds of grapes each.
A tractor towing a cart full of lugs takes the grapes to machines that crush them and remove the stems. That starts a process that will result in several varieties of bottled wine next year, Barnhart said.
This year's harvest is coming later than last year's, he said.
"Last year, we had just a phenomenal growing season and were able to harvest just about perfectly ripe grapes the first week in September," Barnhart said. "If you look at long-term averages, this year is probably closer to normal."
When it comes to grapes for making wine, sugar content and acidity are the hallmarks of a good crop. Barnhart said both are coming along well, despite a season marked by strange weather.
Rainy weather, like that experienced throughout the area in June, is a bigger concern later in the grape-growing season.
"In 2011, we had tropical storms Irene (August) and Lee (September) come through, and that was pretty devastating on our harvest," Barnhart said. "Grapes are like tomatoes, in that they'll soak up so much water they'll break open. This year, I think it's going to be a very good year."
June's wet weather did hurt at least one local winery.
Ken Denberg, owner of Natural Selection Farm Winery in Cambridge, said June's rain kept him from protecting his vines from black rot, a fungal disease.
"I was not able to keep up with my spray program," Denberg said. "And the Marquette variety ... seems to be susceptible to just about everything in the world that you don't want."
The Marquette grape, created by the University of Minnesota to be cold-weather resistant, makes up about half the Natural Selection vineyard, Denberg said. Other varieties did better, although he likely suffered a 50 to 60 percent crop loss this year.
The rest of his vines produced very well, and Denberg said he expects some good wines to result. Natural Selection opened three years ago, and its vines range in age from two to four years.
The Marquette grapes did better at Victory View, although fungal disease management took a lot of effort because of the weather, Barnhart said. His winery also has LaCrescent, Frontenac, Lacrosse and Marechal Foch grape vines, all of which were bred in laboratories to be cold-resistant.
For Tony Oliva, owner of Oliva Vineyards on Route 4 south of Fort Edward, the bigger issue was a Memorial Day weekend frost that destroyed the vulnerable blossoms over much of his three-acre vineyard.
"We were anticipating our best crop this year, and then we had the frost, and it basically killed everything," Oliva said.
Though Oliva Vineyards is not an estate vineyard — the business buys crushed grapes from growers in the Finger Lakes region — Oliva said he has plans to expand.
"Our goal was always going to be 10 acres," he said. "That is still our plan."
Jim Tresize, president of the New York Wine & Grape Foundation, said it's common to see large differences in grape crops over small areas. Though the "Minnesota varieties," as they've come to be called, are proving viable from the Thousand Islands region to Lake Champlain, the impact of smaller weather events can be profound.
For example, in the Finger Lakes region, the lakes create a microclimate on the hills above the water that's suitable for many grape varieties.
"A lot of times, even within a region like the Finger Lakes, the grape harvest can vary from lake to lake," Tresize said.
The traditional grape harvest happens from early September to early October, depending on the variety. And from here on out, dry, sunny days are what wineries need, Tresize said.
Sunshine now helps sugars in the fruit concentrate and avoids problems like grapes bursting because of too much rain.
Statewide, Tresize said he has heard varying reports about this year's harvest, although generally, it appears to be a good one.
"The next month is going to be the key," he said.
At Victory View, the region's only operating estate winery — meaning all its wine comes from grapes grown at the vineyard — Barnhart expects to begin bottling wine from this year's crop in the late spring or early summer.
The winery's first vintage, available now, was the product of an acre of grapes of different varieties harvested a year ago. Barnhart is looking to a bigger crop in coming years, after another 180 vines of Frontenac were planted in May.
Victory View, Natural Selection and Oliva are among the wineries that make up the Upper Hudson Valley Wine Trail. More information is available at upperhudsonvalleywinetrail.com.
Read more at:
http://poststar.com/news/local/first-time-for-everything-across-region-wineries-begin-grape-harvest/article_0dad422e-2016-11e3-9a84-001a4bcf887a.html